H P Blavatsky' View on Specific
Aspects of Esoteric Philosophy
Cardiff Theosophical Society in Wales
Theosophy House
206 Newport Road, Cardiff, Wales, UK. CF24 -1DL
____________________________
Cardiff Theosophical Society
Mission Statement
The dominant and core activity of Cardiff Theosophical Society
is to promote and assist the study of Theosophical Teachings
as defined by the writings of Helena Petrovna Blavatsky,
William Quan Judge, Alfred Percy Sinnett and their lineage.
This Mission Statement does not preclude non Theosophical
activities but these must be of a spiritual nature
and/or compatible with the Objects of the Society.
____________________________
Helena Petrovna Blavatsky  (1831 – 1891)
The Founder of Modern Theosophy
H P Blavatsky's View On
Porphyry aka Porphyrius
A Neo-Platonist and a most distinguished writer, only second to Plotinus as a teacher and philosopher. He was born before the middle of the third century A.D., at Tyre, since he called himself a Tyrian and is
supposed to have belonged to a Jewish family. Though himself thoroughly
Hellenized and a Pagan, his name Melek (a king) does seem to indicate that he had Semitic blood in his veins. Modern critics very justly consider him the most practically philosophical, and the soberest, of all the Neo-Platonists. A distinguished writer, he was specially famous for his controversy with Iamblichus regarding the evils attendant upon the practice of Theurgy. He was, however, finally converted to the views of his opponent. A natural-born mystic, he followed, as did his master Plotinus, the pure Indian Râj-Yoga training, which leads to the union of the Soul with the Over-Soul or Higher Self (Buddhi-Manas). He complains, however, that, all his efforts notwithstanding, he
did not reach this state of ecstacy before he was sixty, while Plotinus was a proficient in it. This was so, probably because while his teacher held physical life and body in the greatest contempt, limiting philosophical research to those regions where life and thought become eternal and divine, Porphyry devoted his whole time to considerations of the hearing of philosophy on practical life. "The end of philosophy is with him morality", says a biographer, "we might almost say, holiness—the healing of man's infirmities, the imparting to him a purer and more vigorous life. Mere knowledge, however true, is not of itself sufficient ; knowledge has for its object life in accordance with Nous"—"reason", translates the biographer. As we interpret Nous, however, not as
Reason, but mind (Manas) or the divine eternal Ego in man, we would translate the idea esoterically, and make it read "the occult or secret knowledge has for its object terrestrial life in accordance with Nous, or our everlasting reincarnating Ego", which would be more consonant with Porphyry's idea, as it is with esoteric philosophy. (See Porphyry's De Abstinentia ., 29.)
Of all the Neo-Platonists, Porphyry approached the nearest to real Theosophy as now taught by the Eastern secret school. This is shown by all our modern critics and writers on the Alexandrian school, for "he held that the Soul should be as far as possible freed from the bonds of matter, . . . be ready . . . to cut off the whole body". (Ad Marcellam, 34.) He recommends the practice of abstinence, saying that "we should be like the gods if we could abstain from vegetable as well as animal food". He accepts with reluctance theurgy and mystic incantation
as those are "powerless to purify the noëtic (manasic) principle of the soul": theurgy can "but cleanse the lower or psychic portion, and make it capable of perceiving lower beings, such as spirits, angels and gods" (Aug. De Civ. Dei. X., 9), just as Theosophy teaches. "Do not defile the divinity", he adds, with the vain imaginings of men you will not injure that which is for ever blessed (Buddhi-Manas) but you will blind yourself to the perception of the greatest and most vital truths". (Ad Marcellam,18.) "If we would he free from the assaults of evil spirits, we must keep ourselves clear of those things over which evil
spirits have power, for they attack not the pure soul which has no affinity with them". (De Abstin. ii., 43.) This is again our teaching.
The Church Fathers held Porphyry as the bitterest enemy, the most irreconcilable to Christianity. Finally, and once more as in modern Theosophy, Porphyry—as all the Neo-Platonists, according to St. Augustine—"praised Christ while they disparaged Christianity"; Jesus, they contended, as we contend, "said nothing himself against the pagan deities, but wrought wonders by their help". "They could not call him as his disciples did, God, but they honoured him as one of the best and
wisest of men". (De Civ. Dei., X1X., 23.) Yet, "even in the storm of
controversy, scarcely a word seems to have been uttered against the private life of Porphyry. His system prescribed purity and . . . he practised it". (See A Dict. of Christian Biography, Vol. IV., "Porphyry".)
From H P Blavatsky's Theosophical Glossary Published 1892
______________________
CARDIFF
Cardiff Theosophical Society in Wales
Theosophy House
206 Newport Road, Cardiff, Wales, UK. CF24 -1DL
Find out more about
Theosophy with these links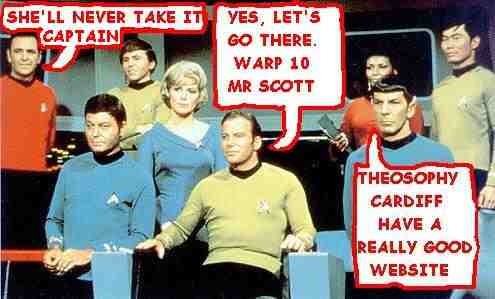 The Cardiff Theosophical Society Website
The National Wales Theosophy Website
If you run a Theosophy Group, please feel free
to use any of the material on this site
Theosophy Cardiff's Instant Guide
One liners and quick explanations
H P Blavatsky is usually the only
Theosophist that most people have ever
heard of. Let's put that right
The Voice of the Silence Website
An Independent Theosophical Republic
Links to Free Online Theosophy 
Study Resources; Courses, Writings, 
The main criteria for the inclusion of
links on this site is that they have some
relationship (however tenuous) to Theosophy
and are lightweight, amusing or entertaining.
Topics include Quantum Theory and Socks,
Dick Dastardly and Legendary Blues Singers.
A selection of articles on Reincarnation
Provided in response to the large 
number of enquiries we receive at 
Cardiff Theosophical Society on this subject
The Voice of the Silence Website
This is for everyone, you don't have to live
in Wales to make good use of this Website
No Aardvarks were harmed in the
The Spiritual Home of Urban Theosophy
The Earth Base for Evolutionary Theosophy
A B C D EFG H IJ KL M N OP QR S T UV WXYZ
Complete Theosophical Glossary in Plain Text Format
1.22MB
________________
Preface    Theosophy and the Masters    General Principles
The Earth Chain    Body and Astral Body    Kama – Desire
Manas    Of Reincarnation    Reincarnation Continued
Karma    Kama Loka    Devachan    Cycles
Arguments Supporting Reincarnation
Differentiation Of Species Missing Links
Psychic Laws, Forces, and Phenomena
Psychic Phenomena and Spiritualism
Quick Explanations with Links to More Detailed Info
What is Theosophy ?  Theosophy Defined (More Detail)
Three Fundamental Propositions  Key Concepts of Theosophy
Cosmogenesis  Anthropogenesis  Root Races
Ascended Masters  After Death States
The Seven Principles of Man  Karma
Reincarnation   Helena Petrovna Blavatsky
Colonel Henry Steel Olcott  William Quan Judge
The Start of the Theosophical Society
History of the Theosophical Society
Theosophical Society Presidents
History of the Theosophical Society in Wales
The Three Objectives of the Theosophical Society
Explanation of the Theosophical Society Emblem
The Theosophical Order of Service (TOS)
Glossaries of Theosophical Terms
An Outstanding Introduction to Theosophy
By a student of Katherine Tingley
Elementary Theosophy Who is the Man?  Body and Soul   
Body, Soul and Spirit  Reincarnation  Karma
Try these if you are looking for a local
Theosophy Group or Centre
UK Listing of Theosophical Groups
Wales Theosophy Links Summary
All Wales Guide to Theosophy   Instant Guide to Theosophy
Theosophy Wales Hornet   Theosophy Wales Now
Cardiff Theosophical Archive    Elementary Theosophy
Basic Theosophy   Theosophy in Cardiff   Theosophy in Wales
Hey Look! Theosophy in Cardiff   Streetwise Theosophy
Grand Tour   Theosophy Aardvark  Theosophy Starts Here
Theosophy206   Theosophy Introduction
Theosophy Cardiff's Face Book of Great Theosophists
Theosophy Evolution   Theosophy Generally Stated
Biography of Helena Petrovna Blavatsky
____________________________
Cardiff Theosophical Society
Mission Statement
The dominant and core activity of Cardiff Theosophical Society
is to promote and assist the study of Theosophical Teachings
as defined by the writings of Helena Petrovna Blavatsky,
William Quan Judge, Alfred Percy Sinnett and their lineage.
This Mission Statement does not preclude non Theosophical
activities but these must be of a spiritual nature
and/or compatible with the Objects of the Society.
____________________________
Cardiff Theosophical Society in Wales
Theosophy House
206 Newport Road, Cardiff, Wales, UK. CF24 -1DL